6. Buildings
Most of the buildings are already finished. But here I proceed from the principle of the more is the better. I plan to add lots of more decorative buildings. It takes quite a long time to create them, but we put our heart and soul into them. We try to think through the mechanism of their functioning and work out all details. Here, for example, is a jeweler's table: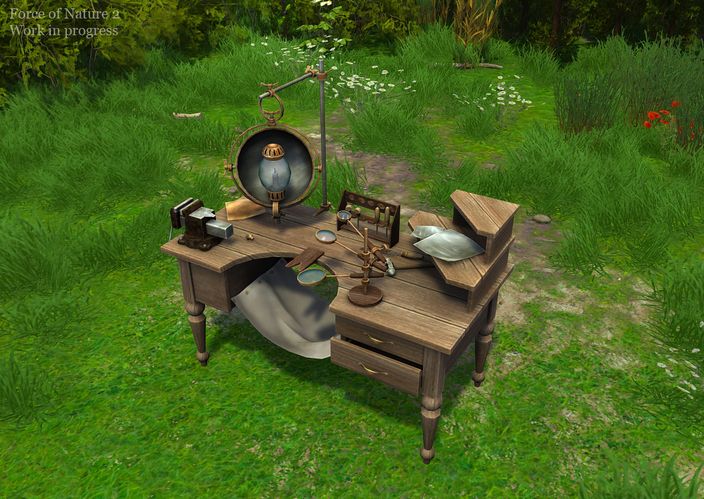 This table will produce amulets and various parts of complex shapes. According to my estimates, it will take about a month to finish main buildings and another month for decorative ones.
7. Enemies
Enemies are also half ready. There will be quite a lot of different ones: wild animals, various fantasy creatures, magicians and knights. And we'll try to find time to add many new ones before release. Artificial intelligence algorithms have been significantly refined. I haven't done any fine-tuning of AI yet, but I hope that with the help of new algorithms I will be able to make battles more dynamic and interesting than in the first part.
8. Bosses
There will be 5 bosses in the game. Concepts are ready for all of them, but 3D models have been made only for three for now. Creating one model takes about a week, so it won't take much time to finish the rest of them. The worst thing is to give them unique abilities, because it requires writing program code. I think it'll take me another 2-3 weeks to script the behavior of all the bosses. This is what one of them looks like. Meet the Lord of metal: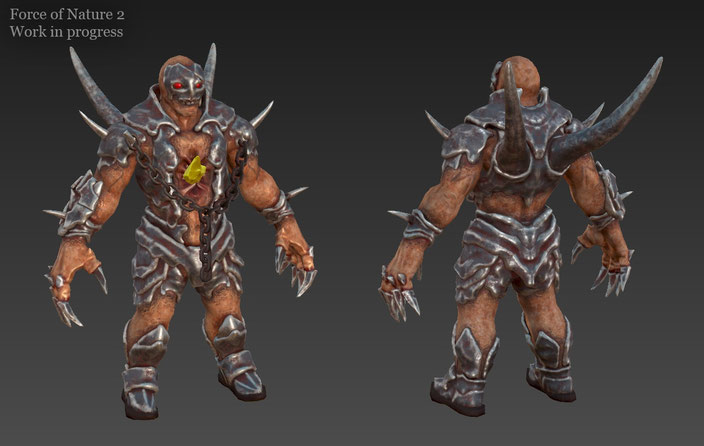 9. Animation
Drawing models for monsters and bosses is only half the job. They also need to be forced to move. Character animation is quite a painstaking labor: it turns out to make only 2-3 separate movements a day. On average, one enemy takes a week of time. At this moment, it's the main factor that postpones game release, because many characters with ready 3D-models are not animated yet. In the next post I'll tell you more about various difficulties I had to face while animating of the main character.
Summary
We fill the game with content intensely. Yes, there is still a lot that I want to add to the game. However, some of this work is being done in parallel, and I hope that in 2 months we'll be able to start beta testing. As a result, the game should be ready for release sometime in August. Yes, I know that the deadline has moved forward. Previously, I estimated to complete the development by the end of spring. But at that time, many aspects were not even started. Now all the main parts of the game are already affected and we are steadily moving towards completion. Therefore, I hope that the current forecast will not be far from the truth.