In this and in the next posts I will tell you point by point about the current progress of game development. I will describe what is ready, what remains to be done, and give my estimates for the remaining work.
1. Programming
The game code is almost completely ready. It remains to script all bosses and a couple of minor quests. The rest of the game is already fully playable.
2. World and environment
All game locations are already finished. The game has 5 main biomes plus some additional locations and 4 types of dungeons. Map generation algorithms have been significantly improved since the first part of the game. Now the way to the goal won't be as straightforward as before. You'll have to explore locations to find the right way. Here is a screenshot of swamps - one of biomes I wrote about earlier:
3. Sounds
The sound part of the game is nearly half completed. Sounds of user interface, footsteps and bumps on different surfaces are fully finished. Crafting, building sounds and surrounding noises are half completed. It remains to record weather sounds, birds singing, unique sounds for different constructions, magic spells and all the monsters. So, there is still quite a lot of work. According to my estimates, it will take about 2 more months.
4. Music
At the beginning of the first part of the game, it is indicated that all music for it was made by "Storm Warning!" band. It's a music band my classmate and I founded when we were students. I used some tracks from our tracklist which I composed and mixed by myself. This time music is technically from the same band again. But now our guitarist works on it. He composes tracks specifically for the game. The music is very pleasant and fits well into the game environment. There are already more than a dozen tracks ready, and we hope to produce as many more.
5. Equipment
The game will have a fairly wide variety of clothing and weapons. There are already more than 50 items of clothing (and there will be 20 more). For example, how do you like this outfit?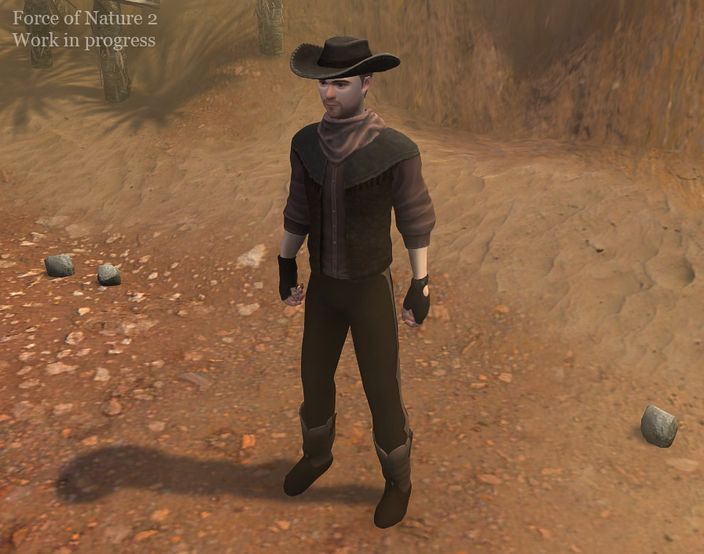 Many weapons are not ready yet - about a third of the estimated number is done. However, all the scripts are finished, and I only need to make models and draw icons. It won't take for long.
I'll post the second part of the post with the rest of the points and summing up a little later, but no later than this weekend.