I try to make all game aspects at the highest possible level. This also applies to the game sound design.
In the first part of the game I recorded sounds on a fairly inexpensive condenser recorder Zoom H4n. This recorder has its own low level noise, inappreciable when recording loud sounds. However, if you record quiet sounds - clicking seeds, taking an object from inventory, bones tinkling, etc., this noise becomes noticeable. I had to process recordings with a noise reduction filter, and this notedly decreased the final sound quality. Despite this, sounds recording is a very exciting process. I looked for sticks and stones on the street, broke and threw them, recorded individual sounds, and then assembled from them the sounds of different breaking structures.
To improve the sound quality in the second part I decided to improve my equipment. I did not want to buy separate microphones, stands, a recorder (a complete set for professional sound recording). I just decided to replace my rather cheap voice recorder with the recently released Sony PCM-D10 - an updated version of the Sony PCM-D100. This recorder was called the best in quality on many forums. I had to wait half a year for this recorder to appear in my region. However, the recording quality upset me greatly. It was no better than my old Zoom H4n. I made a test recording and compared signal spectrum.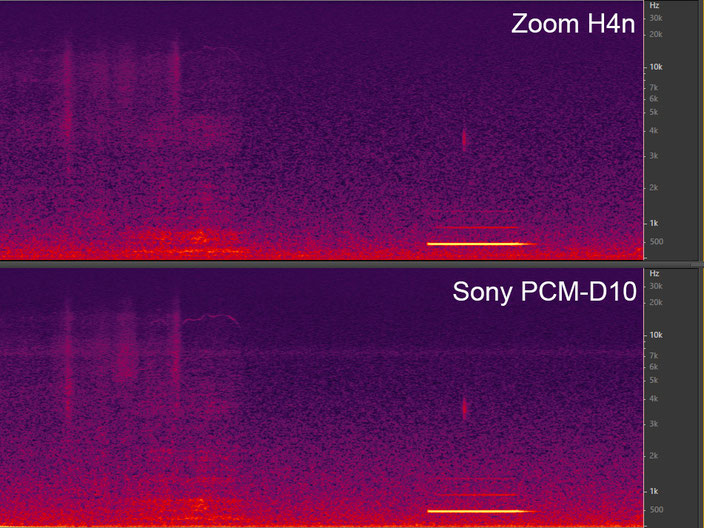 On the high frequency ranges Sony is actually a bit quieter, but in the main audible range of 100-5000 Hz it has even a slightly higher noise level. In addition, it has a parasitic exceeding in the region of 7000 Hz. I decided that maybe I got a defective one, so I returned the recorder and bought a new one in another store. But the situation was the same. I also returned a new recorder.
Then I decided to find an experienced professional who will not only have good equipment, but will also be a sounds processing specialist. After quite a long search I met Eugene. Now we are actively recording sounds for the second part of the game. We try to make a maximum of live sound and a minimum of synthesized.
The situation with COVID-19 makes life a bit more difficult for us, as we can't fully use the services of voice actors. But we're doing our best.
Here is a short video on which you can see the process of recording sounds for Force of Nature 2.