In the first part of the game user interface was not very convenient. Many windows replaced each other, which distracted attention.
Now I tried to fix this problem. To begin with, the design itself has changed. The asset RPG & MMO UI 6 from Unity Asset Store was taken as the basis, but after it was significantly redone to fit my own needs. Windows can now be moved around the screen. Windows' header has an interesting animation. For example, this is how the main character's inventory window looks like: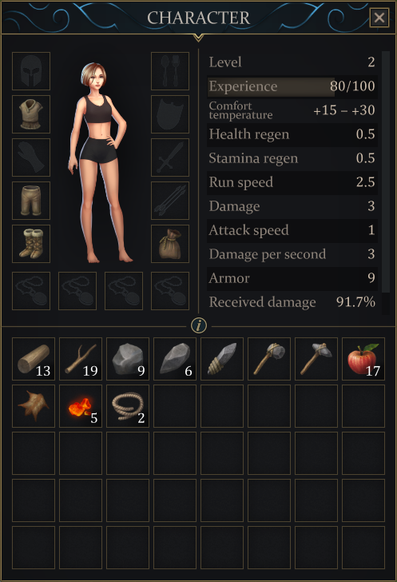 Also, the current character characteristics were moved to this window. It seems to me this should simplify the comparison of different equipment, making it possible to immediately observe how armor, running speed, damage per second and other parameters change. In addition, there will be much more different clothes and weapons in the game than in the first part.
To quickly move items between your inventory and an open chest, you can now click on objects with the Shift key held down - this will instantly send the item from inventory to the chest or vice versa.
Building and craft windows have also changed significantly. I tried to get rid of excessive windows and fit all the necessary information into one window. This is how the building window now looks like: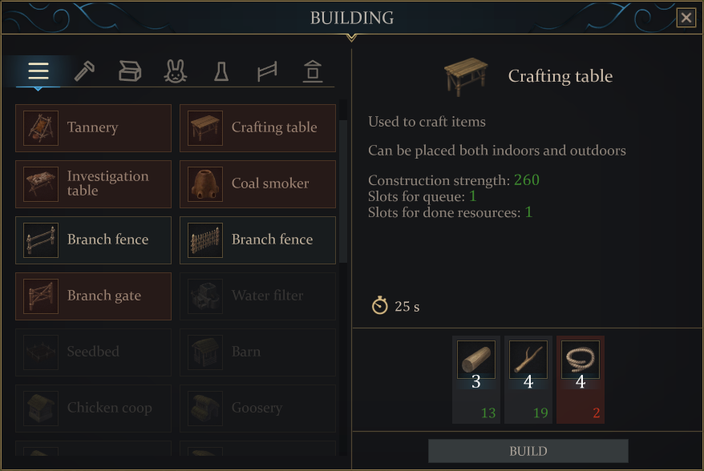 The list of all buildings is placed to it's left part. It is also possible to select a category (crafter, storage, farming, decoration, etc.). The description of the building is now in it's right part, with the ability to choose from several variants (for example, the length of the fence).
I hope the new user interface will allow less distraction from the main gameplay and it will become more fun to play.